Most businesses rely on customers spending money not once, but as many times as possible. The aim of popular rewards systems is to give shoppers incentives to keep coming back, and there's no reason why you can't implement one for your brand. To that end, you'll want to check out some outstanding online loyalty program examples.
In this article, we're going to talk about how loyalty programs work to increase your brand's revenue. Then we'll break down three outstanding examples and talk about how you can launch your own with WordPress.
Let's get right to it!
An Introduction to Loyalty Programs and How They Work
If you run an online business, acquiring new customers is critical. However, so are return buyers. In many cases, repeat visitors are even more valuable than first-timers. They tend to be more likely to spend higher amounts of money and to recommend your brand to others.
Moreover, convincing existing customers to buy from you again is much easier than making initial sales. This fact is at the core of why so many successful retailers and services offer rewards or loyalty programs: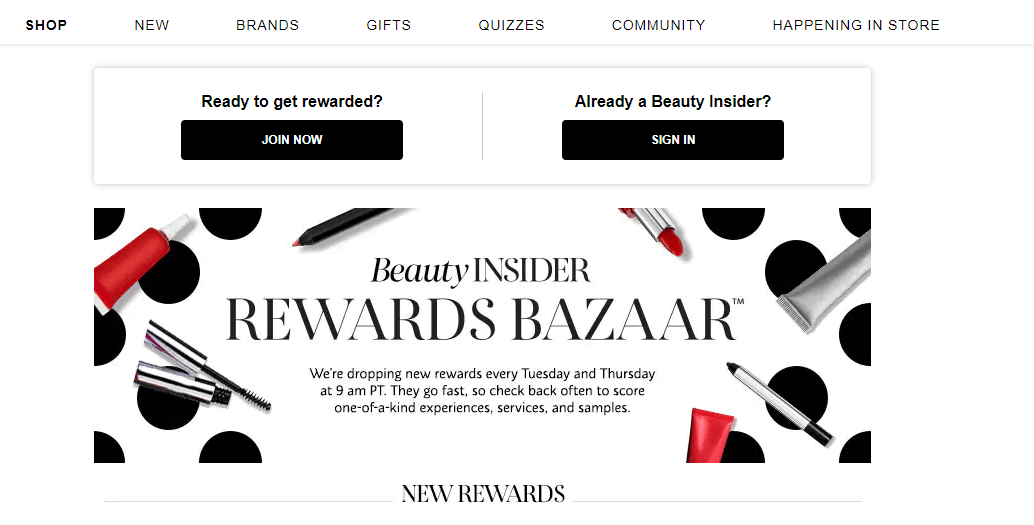 Most loyalty programs have a similar structure. They offer customers some sort of reward for making additional purchases, reaching milestones, and referring new leads. In turn, these incentives encourage shoppers to return and spend more money.
Popular incentives include:
Special coupons, discounts, or promotions
Free products or shipping
Exclusive items
Priority access to services
With the internet, rewards programs have become even more far-reaching. Now, most online loyalty memberships enable you to check your "progress" at any time, and they share your incentives almost instantly. These two factors make it even easier to hold customers' attention.
3 Online Loyalty Program Examples to Inspire Yours
There are thousands of online loyalty program examples you can mimic when building one for your own brand. However, the three we've examined below incorporate particularly successful strategies.
1. Starbucks Rewards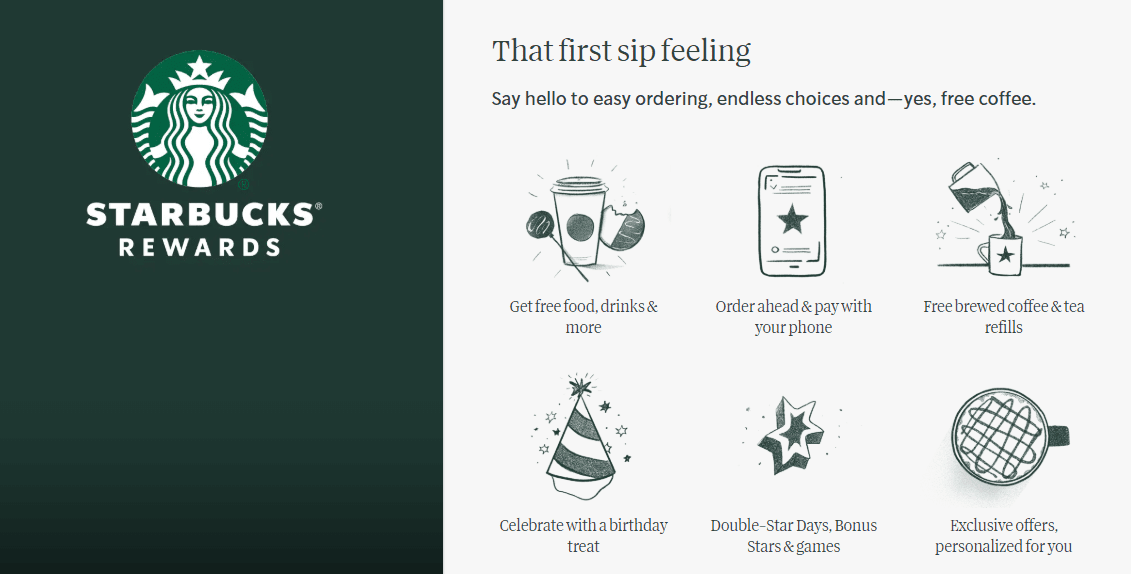 We all know Starbucks. Whether you like its coffee or not, you can't deny it's got the whole loyalty program thing on lockdown with Starbucks Rewards. Some of the perks it offers include:
"Stars" customers collect for every dollar they spend, which can be exchanged for food and drinks
Free treats for customers on their birthdays
Exclusive offers and "bonus stars" as prizes for playing in-app games
On top of all that, Starbucks offers loyalty program members both a mobile app and credit cards (traditional or prepaid). The former sends push notifications regarding freebies, and can be used to pay for food and drinks in-store and redeem rewards.
The incentives to keep coming back are strong, and the program has elements of gamification. Although its prices are a bit higher than other coffee brands, Starbucks has managed to continue to dominate the industry.
One of the most important things you can learn from the Starbucks Rewards program is that you shouldn't make it hard for loyal customers to access or use their perks. The feeling of constantly being rewarded helps keep them coming back.
2. Amazon Prime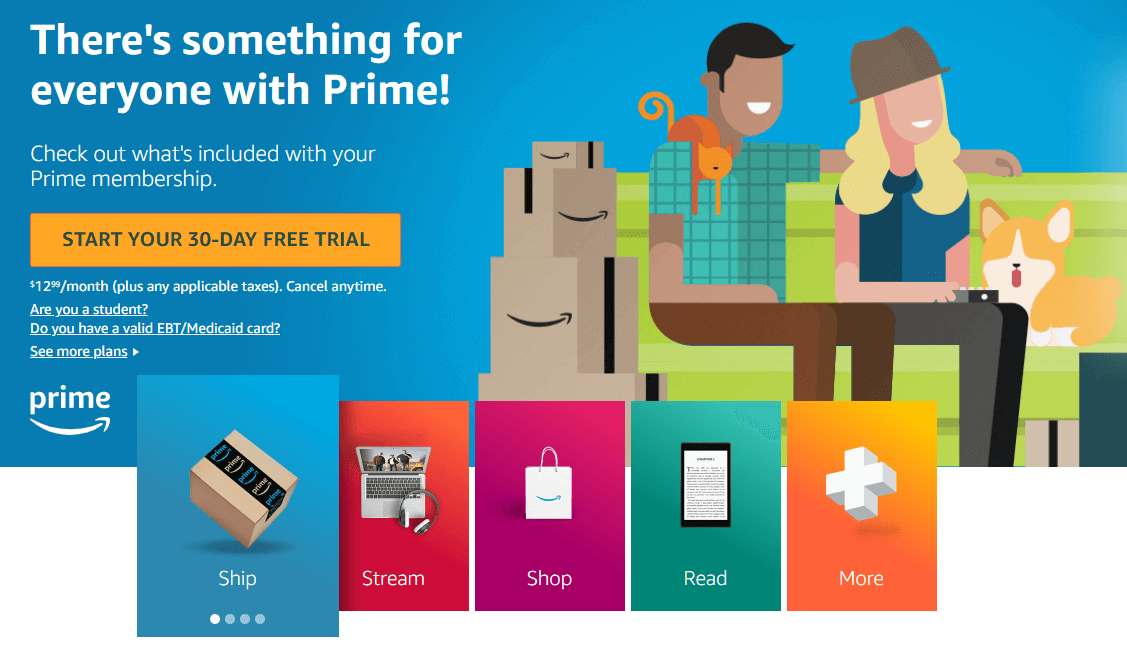 A staggering 95 million people are members of Amazon Prime in the US alone. You might not think of it as a loyalty program, but once you take a look at all the perks it provides, its true nature becomes evident:
Free two-day shipping and same-day delivery in select areas
The choice to select an "Amazon Day" to consolidate all your deliveries
Access to Prime Video, Amazon Music, and Twitch Prime
Savings at Whole Foods Market, Amazon Book Stores, Amazon Fresh, Prime Pantry, and more
Early access to lightning deals
Cloud photo storage
Benefits sharing with your household
The full list of Amazon Prime benefits takes up an entire page of small print. However, all those perks don't come for free. Amazon charges customers $79 per year for access to them. To put it another way, shoppers pay a yearly membership fee to be part of this loyalty program.
Once they pay that membership fee, they're much more likely to want to take advantage of the benefits. Prime members spend an average of more than $1,400 per year at Amazon, which is more than double the amount spent by non-members.
Few businesses in the world can compete with Amazon when it comes to scale. However, that doesn't mean you can't try to emulate their program. For example, you could offer a recurring membership in exchange for free shipping, if you can make the arrangement financially viable.
3. NikePlus Membership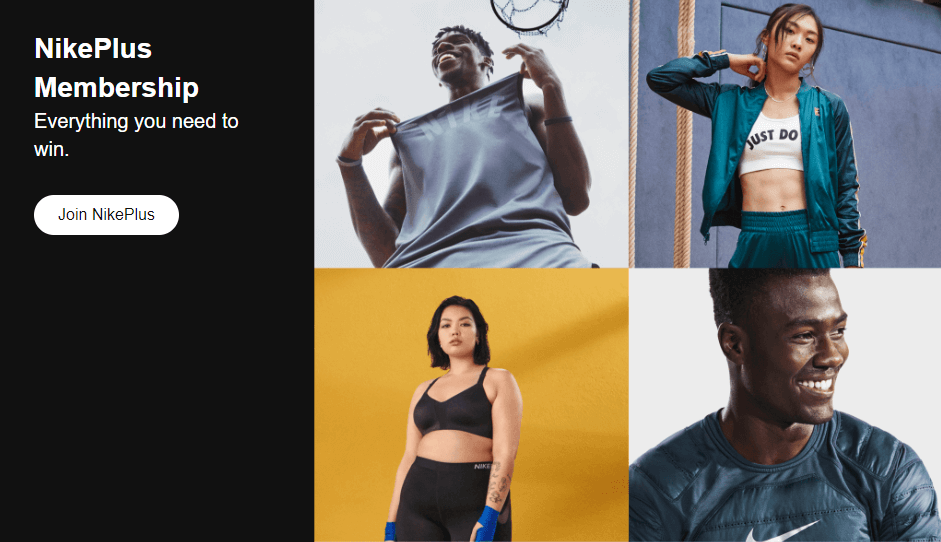 No one likes to feel that they're missing out. Nike understands that, which is why their NikePlus Membership program is based around exclusivity. Members can access perks such as:
A members-only online store with exclusive shoes and gear
On-demand experts to help customers with their orders
A "First Access" program that offers members the opportunity to buy gear before its made available to the general public
Priority access, checkout, and courier services in physical stores
Free shipping and a 30-day return window
NikePlus memberships don't cost a dollar. However, customers can only unlock certain perks by using the brand's mobile apps regularly and making specific types of purchases.
For example, customers can unlock perks by using mobile apps within the Nike family, such as Nike+ Run and Nike+ Training Club. The loyalty program rewards members for working out, which then gamifies the experience.
The synergy with Nike's other apps is a great case study in how to lock users into a business' ecosystem. Plus, it also helps build goodwill with customers. Beyond that, the best takeaway from Nike's loyalty program is the element of exclusivity in its rewards.
Offering specific products or preferential access to your top customers can help build long-term relationships with them. NikePlus members spend, on average, 40 percent more than regular shoppers, and your business could reap similar rewards with the right approach.
How to Launch a Loyalty Program for Your WordPress Website
The online loyalty program examples we've analyzed so far offer a broad range of rewards. However, when you break it down, their perks can be boiled down to:
Redeemable points in exchange for money spent
Free shipping
Access to exclusive products
Implementing these rewards as part of a loyalty system using WordPress isn't all that complicated. You can use plugins such as WooRewards or myCred to set up a "points" system on your website.
With WooRewards, you can incentivize customers to spend more money:

myCred, on the other hand, enables you to implement gamification through contests, and to reward users for reaching certain milestones:

Beyond that, if you're using WooCommerce, you can offer free shipping out of the box. However, you'll likely need a more advanced degree of control for your loyalty program. Using WooCommerce Advanced Free Shipping, for example, you can limit free shipping to specific user roles.
If you set up unique user roles for your members, you can provide them with free shipping and other perks, such as exclusive products. You can also send special offers via email by segmenting your subscriber list. Combine all those perks and you've got the foundation of a robust online loyalty program.
Conclusion
Whether you run an online store, a subscription service, or even a community website, you need to retain your customers. Return shoppers aren't only likely to spend more money, but also to recommend you to friends.
In this post, we analyzed three outstanding online loyalty program examples and what they do to keep customers coming back:
Starbucks Rewards: The program makes it very easy to earn points and exchange them for rewards via its corresponding mobile app.
Amazon Prime: Free shipping and a broad range of additional perks encourage users to spend more money on average, despite membership fees.
NikePlus Membership: Exclusive offers and a gamified system make this program highly engaging.