Table of Contents
Step 1 – Figure Out Your Purpose/Goals
Step 2 – Choose The Right Domain Name
Step 3 – Hosting Provider
Step 4 – Install WordPress
Step 5 – Perform On-Page SEO & Optimize Your Site
Step 1 – Figure Out Your Purpose/Goals
What is the goal of your website
Websites are a great way to reach your target audience and to increase your brand awareness. Before you start building a website, you need to figure out what your goals are and what features you need.
A website is a place where you can showcase your products and services, tell people about your business, and make it easy for them to contact you. The purpose of a website is to provide information about your company and its products or services to potential customers.
Websites can serve many purposes, but the most common are:
To provide information about the company or organization that owns it
To sell goods or services online
To facilitate e-commerce
To provide information on a product, service, or event
To support the organization's social media presence
Step 2 – Choose The Right Domain Name
What Is a Domain?
A domain is quite simply a web address, The domain name is the unique address of your website. For example our domain is called simplywordpress.sydney.
How do I come up with a Domain Name?
The right domain name should reflect what your website is about. It should be concise, catchy and easy to remember. One way to figure out the perfect domain name is to use your business name and add a keyword that describes what your site is about.
Let's make up a business as an example say you run a cleaning business and your brand name is "All Clean" and you want to target those looking for "commercial cleaning" as a service. A fantastic domain name would be "All Clean Commercial Cleaning".
You want to make sure the service you are providing is actually a service that is sought out, we have used Commercial Cleaning as our example service keyword, why? Because it has over 12,000 monthly searches that potential customers are seeking. Having that keyword in your domain name is a great method in increasing your ranking opportunities.
So now that we have our Domain Name Idea, we need to make sure it is actually available so we are going to google the following "Domain Name Search" as this will provide free tools that we can use to check the availability for our Domain Name Idea, in this instance we are going to use a tool called Name Cheap. Click here to follow along. https://www.namecheap.com/domains/domain-name-search/
Okay so we have entered our Domain Name Idea "All Clean Commercial Cleaning". If you are following along you will notice there are 5 options that have come up, if you haven't refer to the image below.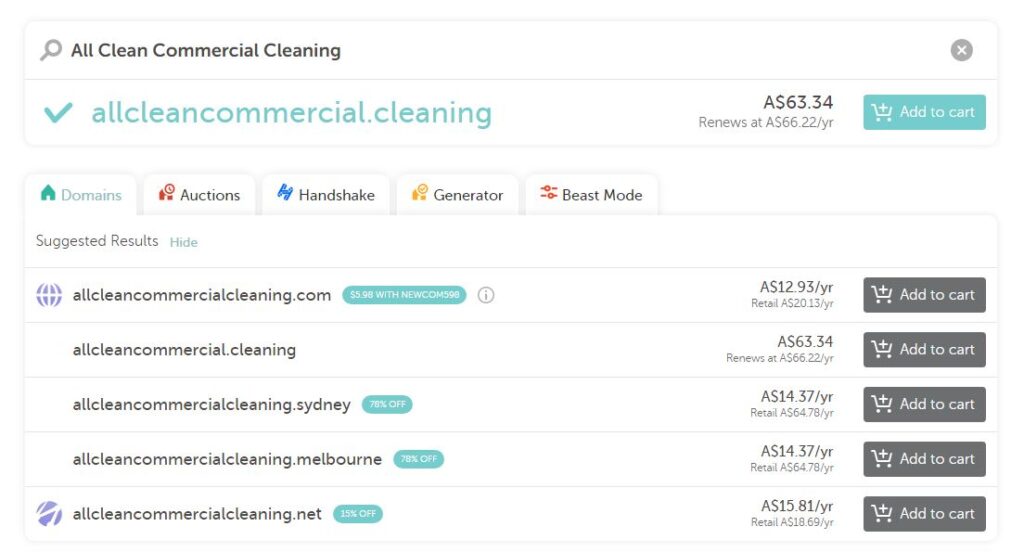 Each of these options are unique web addresses, so this means that 3 separate entities could have one each and they would not be related to one another. Each of these 3 options are completely valid. You most likely recognize the 2nd option ".com" as the type of domain you are most familiar with in every day life. But lets take a deeper dive in each of these options.
.cleaning domain extension
The first option "allcleancommercial.cleaning" is using a .cleaning extension is great for businesses that specialize in cleaning.
This extension is targeting a specific niche which in this case is cleaning. Why could we use this as an option? As we mentioned earlier in the coming up with a domain name section, targeting certain keywords for our business is ideal so if we use the .cleaning extension we would be automatically be including "Cleaning" as a keyword in our web address which can provide ranking opportunities.
We don't really want this extension as we already have cleaning in our domain name idea. If our idea didn't have the cleaning keyword but we want to target it this would be a great option to use, for example instead of "All Clean Commercial Cleaning" our name may be be "All Clean Personal Cleaners" which doesn't have the keyword cleaning within it, so using this domain extension would incorporate that keyword into the domain name as a whole.
As we already have cleaning in our name, we don't want to repeat the same keyword again because one that's not visually appealing, two it will upset google and three it's not efficient and a waste of potential, what we want is to target the next best thing, for the most trustworthy and popular choice we should go with .com or for a more targeted location choice .sydney.
.com domain extension
The second option "allcleancommercialcleaning.com" is using a .com extension which is the most popular and utilized extension.
Most people register a .com domain extension as it is:
Most memorable web address ending.
Most trustworthy in public perception.
Shorter than other Domain Extensions.
You simply can't go wrong with a .com domain, it's just generically the most simple and straight forward domain type. Not only is it the most used, but it's the most trustworthy and well known of it's kind.
.city domain extension
The third option "allcleancommercialcleaning.sydney" is using a .city extension.
The third option is using ".sydney" which is based on a top-level domain (TLD) known as .city. It's just as valid as a .com domain, however it can have it's pro's and cons. A .city domain is typically used by businesses that are based in that city and provide services within that city. For example say we use our example business "allcleancommercialcleaning" as we are a local cleaning business and are providing services exclusively in Sydney we may want to use the allcleancommercialcleaning.sydney domain as we are looking to rank our services within a specific city rather than Australia as a whole. There is no point in us being a Sydney cleaning business and ranking in another country or another state in Australia such as Melbourne. It also can increase our ranking potential if someone googles search queries such as "Commercial Cleaning Sydney" or "Commercial Cleaning in Sydney" or "Sydney Commercial Cleaning" So if we use the .sydney extension we would be automatically be including "Sydney" as a keyword in our web address which can be quite ideal.
However here are 3 unfortunate side effects:
Using domain names that aren't .com can hurt your chances of conversions as those that aren't knowledgeable in domains may interpret the lack of a .com in your web address as spam or untrustworthy and may seek out the next cleaning business with a .com extension.
Having the shortest domain name you can is the most ideal option, so .com has only 4 characters within your URL whereas .Sydney takes up 7 characters. Seems miniscule in nature but it has been known to happen.
Another factor is that .com is much more memorable than a .Sydney which is unfortunate because we are creatures of convenience and as such, going by Occam's Razor ("the simplest answer is most often correct") are going to assume a website we have visited in the past will end in .com rather than a less used extension such as .Sydney which could make a reoccurring user go to our competitions cleaning domain rather than our own and can hurt our branding and conversion rates.
These are some of the core reasons why a .com domain will be more popular, it just seems much more trusting and the typical choice when browsing the web for most people. However a silver lining is you will find it is usually more expensive than another domain extension, which can be ideal for businesses that are on a very strict budget.
What do we recommend
In general we would recommend going with the .com extension followed by the .city extension in this instance. You need to evaluate what would be best for your business in terms of domain extensions. But if you follow our example outline process within this section you should have no trouble at all.
Step 3 – Hosting Provider
What is a Web Host and Why You Need One?
Web hosting is the process of storing a website on a server so that it can be accessed by internet users.
A web host is a company that provides storage space and bandwidth to store and distribute your website. It also provides the connection to the internet so that people can access your site. Web hosting services are usually offered in terms of monthly or yearly contracts, where you pay for their service and they provide you with their servers to host your website.
How to Choose the Right Web Hosting Service for Your Website
Choosing the right hosting provider is crucial for the success of your website. The right hosting can make or break your site. There are many hosting providers in the market and it's not easy to choose one. But there are some parameters that you should consider when making your decision, such as: price, security, uptime, customer support and more. The second thing to consider is reliability and speed. A good hosting provider will have servers located near you for faster speeds, and will be able to handle any spikes in traffic without crashing your site.
What are the Different Types of Web Hosting Services?
We are going to mention three different types of web hosting services: Shared, Dedicated, and Cloud.
Shared hosting is when a single server is used to host many different websites. It's the cheapest option but it can lead to slow page loading speeds and other technical issues if the server isn't powerful enough.
Dedicated hosting is when a single server is used to exclusively host one website at a time. It's more expensive than shared hosting but it offers faster page loading speeds and better reliability.
Cloud hosting is when there is an array of servers that host websites on-demand as needed. This allows for flexible scalability and lower costs over time because you only pay for what you use.
Choosing a web host is a big decision that will affect how well your site performs online. Here are some questions to ask yourself before choosing a provider.
Choose a Hosting Provider That Offers Good Value. You need to choose a web hosting service that offers good value. This means finding a company with a strong reputation, reliable customer support, and competitive pricing.
Find Out About Their Customer Support. A good web host will offer 24/7 customer support via phone, email, chat, and live online help. They should also provide tutorials and documentation so you can learn how to use their services.
Check out their Site Speed. You'll need to check out their site speed before signing up with them. If your site takes too long to load, people won't stick around.
Look at Their Security Features. A good web host will offer security features such as malware protection, backup services, and 24/7 customer support. They also provide a free trial period so you can test how well their service works for you.
Do They Offer Any Special Services? If you need more than just standard web hosting, you might consider choosing a company with additional services. These include domain name registration, email accounts, and other tools that make managing your website easier.
We Recommend These Hosting Providers
WPX Hosting (Our Favorite)
URL. https://wpx.net/
WPX Hosting offers 3 plans:
Business allows for Up to 5 Websites, 10 GB Storage & 100 GB Bandwidth costing $25/month or $250/year
Professional allows for Up to 15 Websites, 20 GB Storage & 200 GB Bandwidth $50/month or $500/year
Elite allows for Up to 35 Websites, 40 GB Storage & Unlimited GB Bandwidth $100/month or $1000/year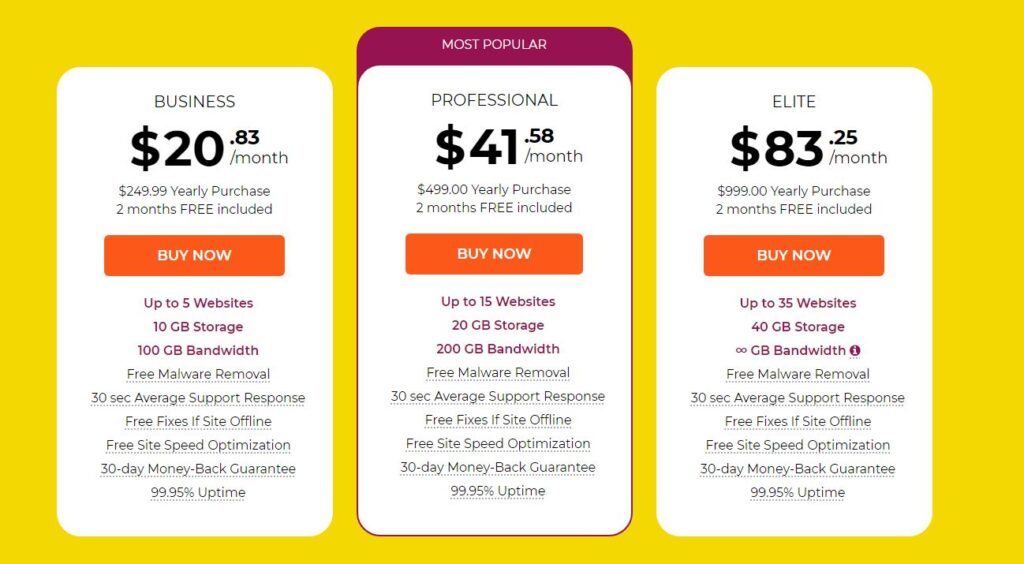 Benefits:
Free Malware Removal.
30-day Money-Back Guarantee.
Includes 2 months free if you pay annually.
Staging Areas.
Unlimited SSL Certificates.
28 Days of Automatic Backups.
1 Click WordPress Installs.
DDoS Protection.
Comes with a CDN.
Cons:
Can be on the expensive side.
Email service is basic and lackluster.
Lack of Phone Support.
Low Storage.
Unable to host just a single website, minimum plan is for up to 5 websites.
When it comes to website speed, the less time it takes for your browser to receive data from the server the better, the moment the browser receives data from the server is called Time to First Byte (TTFB). Another way to picture it, is when you click on a website and you see nothing but white for that split second before the page loads. According to Google anything below 200 milliseconds is fantastic, anything below 500 milliseconds is considered acceptable, having your server response time anywhere above 500 milliseconds is not ideal, as you want to make sure your website loads in 3 seconds or less. If it takes more than half a second to receive any form of data to begin with…this can eat up that budget.
One of Simply WordPress's team members personally uses WPX and his personal website takes 219 milliseconds compared to 1.2 seconds with his old host that was HostGator, web experts will find it difficult to optimize and maximize the efficiency of HostGator servers.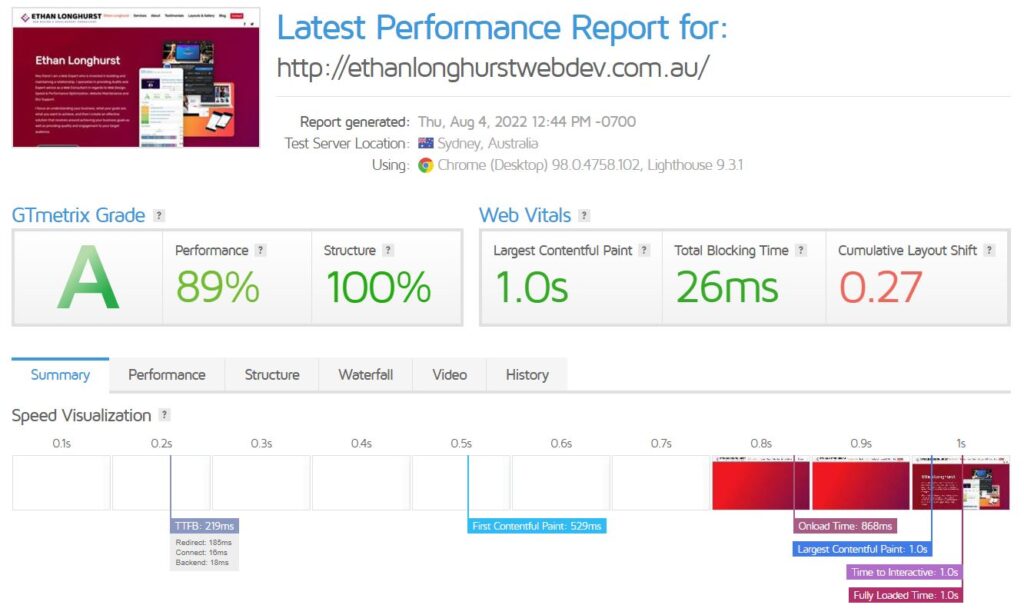 Kinsta
URL. https://kinsta.com/
Benefits:
Very Flexible plans, 10 different options
Free SSL, CDN & Staging
30-day money-back guarantee
Automatic daily backups
A custom Kinsta admin dashboard
Cons:
Very Expensive, starts at $35/month
Supports only WordPress
No Email Hosting
If you receive more traffic than the cap you will be charged extra.
Certain WordPress Plugins Banned.
Kinsta is a high quality & performing hosting provider, unfortunately it only supports WordPress websites but the capabilities it provides is exceptional, however the sheer cost of using this provider may outway the benefits it provides for some. This provider is also fantastic for eCommerce websites using WooCommerce.
Cloudways
URL. www.cloudways.com
Benefits:
24/7 Support & Live Chat reported to be really good.
Flexible Pricing, includes hourly.
Automated Backups.
Fast TTFB
Cons:
No Email Hosting
Can be on the expensive side.
CDN isn't free.
Cloudways is a high quality & performing hosting provider. It's roughly the same cost of WPX and are not constrained by the minimum of 5 websites.
Avoid these Hosting Providers
HostGator
TTFB is over 600 milliseconds
Customer Service reported to be terrible.
Security is lackluster.
Poor experience from actual users.
Hidden Fees & Overpriced
Reported Abusive Company EIG (Endurance International Group)
Blue Host
Website speed is very slow.
Reported Abusive Company EIG (Endurance International Group)
Minimum plan is 12 months.
Customer Service reported to be terrible.
Poor and negative ratings from actual users.
Affiliate Program results in many stuffed fake and untrustworthy recommendations.
The 3 recommended hosts are solid options, you typically can't go wrong with non EIG hosting providers. We would also like to mention we are not being paid, sponsored or affiliated in any shape way or form with these hosting providers, these are our honest and transparent reviews.
Step 4 – Install WordPress
What is WordPress?
WordPress is a Content Management System (CMS). It can be used for a simple blog, through to complex websites and e-commerce stores. WordPress is the most popular CMS out there with over 50 million websites and it is FREE to install, use and upgrade. There are thousands of plugins and templates available as well.
Download & Install WordPress
Installing WordPress is a straightforward process, but it can be intimidating for someone who has never installed a website before. Log in to your host's website and find out how to install WordPress for that specific host. If you chose one of the three hosting providers we recommended before you will find the documentation for each in the links below.
If you find it too complicated or are having difficulty we can help you, just send us a message and we can begin right away. https://simplywordpress.sydney/contact/
Choose Your Theme
Choosing a theme for your website can be a tough task. There are so many templates out there and it is hard to figure out which one will suit your needs the best. We recommend the Divi Theme by Elegant Themes, it is a premium theme but it allows you to import templates for every type of business. These templates are relatively out of the box ready to go for those without a web designer. You can right way edit the placeholder text with your content, however if you want to make sure it is working without any bugs, responsive and optimized for speed & performance you are going to want to hire a web expert. Simply WordPress does provide these services. https://simplywordpress.sydney/services-and-digital-solutions/
Step 5 – Perform On-Page SEO & Optimize Your Site
Why is Page Loading Speed Important
Page loading speed is how fast your browser will render a page. It includes all the images, videos and other content that are in the page. The longer this takes to load, the higher the bounce rate which will make Google look at you in a negative light. Slow page loads are frustrating for customers. Retaining their attention for more than 3 seconds is a problem if it takes longer than that, they will move to a different site without hesitation.
What is the best way to increase Page Speed?
If you're looking for a significant improvement, then the best way to do that is by minimizing your website's file size. The easiest way to do this is by minifying your HTML, CSS, and Javascript. You can easily do this with a caching plugin such as WPRocket.
However your biggest problem in terms of your speed without a doubt is the size of your images. If you have images that are in resolutions such as 4000px by 4000px that you took using your camera and uploaded them without doing any form of compression or optimization this is what's killing your website. You can't be using such high resouloutions when in reality the image on the website is only taking up 500px by 500px.
Not optimizing your images can quickly slow down your site. For example, if you have 20 pictures of size 1MB each, that's 20 times more than the ideal page weight you should be aiming for, you would be causing long loading times for your visitors. You could have the best hosting provider and the most impeccable aesthetic design for your website, all that is rendered irrelevant if you do not get your images in check.
Luckily, you can make images smaller and load them faster by using any variety of image optimization tools.
Lets Optimize Our Images
You can do this manually, or you can use an automated tool such as Smush. Personally Simply WordPress's team typically find themselves optimizing most images manually and then using Smush as an extra layer. The manual tools that we gravitate towards utilizing is "Compressor.io" which is an image compression service, which means that it reduces the size of your images. It does so by either reducing the resolution of your image or by removing details.
However, there are two main types of compression: lossy and lossless. A lossy compression removes details of your image. It is useful for small images because it reduces the size of your image without destroying it. It is not recommended for large images because it reduces the quality of your image. A lossless compression does not alter the image. It is recommended for large images because it does not lose any details. It is not recommended for small images because it takes much more time. Compressor.io offers you the possibility to choose which type of compression you prefer.
Alternative Tools
It is important to use tools capable of compressing images to a smaller size so that the page size appears lower, leading to faster loading time for the user's browser which means people can actually enjoy your website and you become successful.
Simply WordPress is not affiliated in any shape way or form with "Compressor.io", nor are we for other image optimization tools. Some other alternatives we use are "Optimizilla" as well as "Bulk Resize"
Conclusion
Hopefully, you now have formulated the purpose/goals of your website, understood the different domain types and come up with an optimal domain name, compared our recommended hosts along the hosts we advise you avoid and selected one that works for you, installed WordPress and chosen a theme for you to utilize concluding with some performance tips and information regarding optimizing your images. If you enjoyed Creating a Website in 5 Easy Steps: A Beginner's Guide, please give it a share or leave a comment! If you provide a picture of you sharing this post on your social media we will provide you a discount code on our services.
Hope this article was helpful, if you need help with this topic, or help with your website, contact us on 02 8011 3737 or email hello@chevrontechnologies.com.au and setup a time to connect you with technology today.
You can also check out our latest post, Best Password Manager & Password Security Best Practices
Enjoy Your Day!